Your inventory is what keeps your business running. It comprises all the materials and products that make your shop unique and keep customers coming back. That's why proper inventory control and stockroom organization are key to successfully running your business. Below, you'll find several tips for storing your inventory and making the most of your space.
What Is Inventory Storage?
Inventory storage is designed to help business owners hold, track, and manage the items they sell. It goes beyond building some shelves or renting a warehouse. It's a whole system that prioritizes careful organization to ensure items aren't lost, smart layouts for quick order fulfillment, an internal organization system to track your items, and many more moving parts that make inventory storage work for your business.
Why Is Inventory Storage Important?
It Keeps Merchandise Organized
With good organization, you won't be left guessing if there's another box of succulent planters in your back office or if you stashed the vanilla-scented candles behind its display. Each item will have its home, where it can be easily located for restocking, shipping, or tracking how much of that item is sold.
With organized inventory management, you're not limited to carefully labeled aisles and bins – although there's certainly nothing wrong with that. You can make inventory storage part of your displays, incorporating boxes of materials in creative ways alongside the items on the shelf
It Can Help Minimize Theft
Business owners need to have a plan in place to minimize employee theft. However, with a well-managed system, misdeeds are less likely to go unnoticed. Proper inventory storage can be an effective signal to employees who may think they can get away with pocketing a makeup palette or a phone charger, as it shows that someone's keeping a close eye on the merchandise.
Inventory Storage Is Essential For Accurate Stock Counts
You'll need to know where your items are kept to properly account for them. To that end, well-planned and highly organized inventory management simplifies this important process. You'll save precious time and effort chasing down where items may be kept, and you'll know precisely where each item is stored to ensure each SKU is accurately accounted for.
It Can Help You Track What Sells And What Doesn't
Products "flying off the shelf" can be quite literal when inventory storage is prioritized. At a glance, you can see which items are well on their way to best sellers, and which ones aren't as popular with your customers. And when paired with insights from your inventory management software, this powerful combination can help provide a full view into what your customers like best.
Inventory Storage Contributes To A Positive Customer Experience
Let's say a customer wants to buy a decorative lamp from your lighting shop, but they want a model that hasn't been sitting on your show floor or isn't listed in your online shop. Can you retrieve it right away, or will you spend significant time searching through your storage to find one? Good inventory storage makes items easier to locate and sell, which in turn makes for a satisfied customer who gets what they're looking for quickly.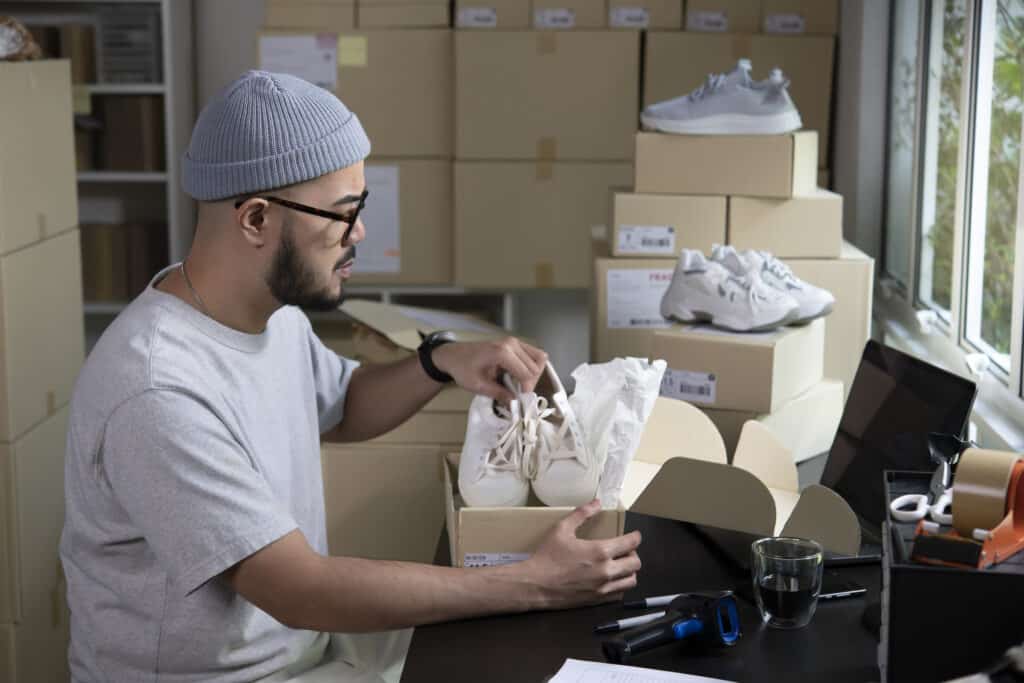 Where Is Inventory Typically Stored?
How To Store Inventory At Home
If your business is still in its early stages and a warehouse space is out of the question, you can store your inventory at home. Clearing out some space in your garage, basement, or extra bedroom can be just the storage solution you need. It also saves you the monthly cost of a warehouse spot or a membership for another storage space. You'll also know your warehouse layout to a tee since your storage solution is right within your home.
To effectively store your small business inventory at home—and out of your family's way—try to separate your inventory from your personal space. Keep your items in their proper place. Consider investing in mobile shelving that can move when necessary. Maintain boundaries rather than letting business clutter take over your living space. You should also be careful to store inventory in a cool, dry location that kids, pets, and potential fire or water damage sources can't reach. If something is particularly fragile, make sure it's stored in protective packing materials.
Because your inventory is the backbone of your business, you'll want to keep it secure. Install a security system and use heavy-duty locks for merchandise, especially for inventory you keep in a garage or shed. If your inventory includes highly valuable items, store them in a safe.
How To Store Inventory In Your Back Office
If your business has a physical location, you can use one of your back-office storage rooms to hold your inventory. Whether it's a closet or a larger room, finding storage space in your current location can be great for stockroom organization and access. A stockroom this convenient saves you money on warehouse costs and is always within reach, all while keeping your floor space clear of clutter. And just like home inventory storage solutions, mobile shelving can come in handy at the office, too.
If you store your inventory at your business's location, you should take proper security measures to make sure nobody steals your products. For example, you can put a coded lock on your retail stockroom door so only certain team members can enter. You can also install a security camera near the room's entrance. Just be sure to check the camera footage every now and then just in case there's someone with sticky fingers frequenting your location.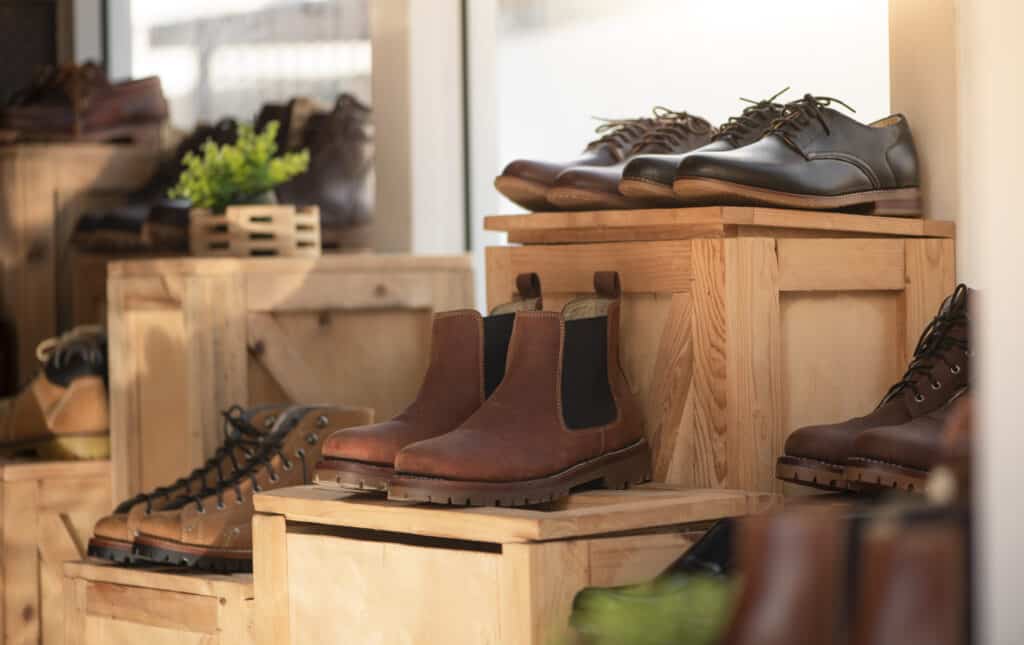 How To Store Inventory On Your Shop Floor
Take a walk around your shop. Are there spaces you're either not using or aren't using effectively? If so, there might be a storage area for your inventory right under your nose.
To start, you can add wall shelves around the building. These shelves ensure you still have ample space on the floor by taking advantage of vertical space, and they give you tons more room in your retail stockroom. You can install them in your shop to create displays that double as inventory. Plus, with everything neatly lined up on the shelves in a particular order, it'll be easy to retrieve items.
Another creative way to store items is to optimize your displays so they strongly appeal to customers while also keeping your merchandise organized. For example, if you want to showcase one of your newest teas, you can put one of those items at the top of a display. You can then store the rest of your inventory for that tea on shelves underneath the display. You're basically creating a miniature warehouse layout for your teas, but right on the sales floor, using merchandising principles. And once you've perfected your setup, take some digital photos so you can recreate the winning display on the same racks every time you restock your shop.
During the day, you can also set up some of your products outside. This approach can temporarily free up some space so you can improve your stockroom organization. But with this extra storage space comes a risk: Anyone can just walk by and grab something without paying. You should keep an eye on your outdoor products so they don't end up in the wrong hands.
How To Store Inventory In A Warehouse
If your business has outgrown the extra space in your home or your back office, it might be time to find a dedicated site to hold your inventory. You can send all your items to an organized warehouse that will hold your items before you're ready to pack and ship them. You'll want to look for a clean warehouse that prioritizes organization methods that keep your inventory on track.
Your immediate vision of a warehouse space might be a 50,000 square-foot industrial building that's lined with hundreds of shelves. But there are several types of warehouses with different warehouse layouts. There are smart warehouses that use automated technology systems and cold warehouses that store perishable or temperature-sensitive products. Many warehouses also have surveillance and security protocols to keep your inventory safe and sound. Whichever type you need, warehouse organization is key to tracking products and knowing precisely what you have on hand at all times.
Additionally, your warehouse space may be organized quite differently, depending on whether you're primarily brick and mortar or e-commerce. An e-commerce warehouse is more akin to a fulfillment center, where the primary goal is to quickly and accurately pack orders and prepare them for shipment. In this scenario, merchandising is not as big a concern as top-tier organization and order fulfillment. That can shift how a warehouse is laid out and organized. For example, a larger e-commerce warehouse may want employee stations throughout the space, so they can more efficiently get to the products they need to pack and ship.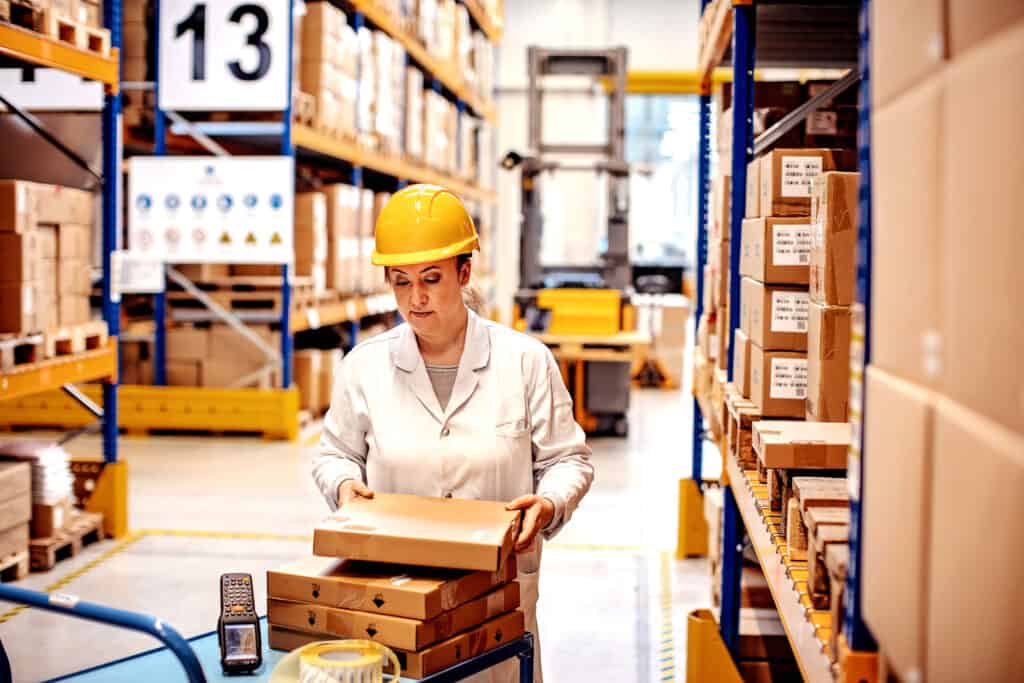 Dropshipping is a special order fulfillment method for e-commerce businesses. It also doubles as a genius inventory storage idea. Instead of storing and managing your own inventory, a third party will do so for you. When customers buy your products, you'll send this third party a product order, the customer's address, and other information about the order. From there, the supplier packs the order and ships it to the customer. 
With dropshipping, you can save on warehouse inventory management or storage facility fees. Nor will you have to handle warehouse management yourself. You can keep tons of products from piling up in your house while streamlining the ordering and shipping process. You'll never have to come up with clever warehouse organization ideas or learn every nook and cranny of a warehouse layout.
Dropshipping also allows you to take a hands-off approach when it comes to tracking and managing inventory. These needs too are the supplier's job. The supplier is responsible for conducting regular checks and maintaining proper wholesale inventory levels so your customers can get the orders they want.
Should You Store Traveling Inventory Separately From The Rest Of Your Stock?
If you run a pop-up shop or another type of mobile business, stockroom organization and tracking can be challenging. After all, you'll be relying on traveling inventory that moves just as much as you do.
You should keep your traveling inventory separate from your regular in-store inventory. This way, you know exactly how many products you'll have for pop-ups and how many you have for your daily business operations. Mixing the two inventories can create some major confusion and leave you without enough products for either storefront. The right inventory management systems can help with that.
Discover how to reach new and unique groups of customers using pop-up shops without introducing back-office chaos. Read our blog, Tips And Tools For Pop-Up Shops. 
Before you go about dividing your inventory, you'll need to make sure you've mastered your inventory management system. Can you add traveling inventory to your current inventory records system? Do you conduct regularly scheduled inventory checks and updates?
Without an already established inventory management system, you could be adding chaos to your business by storing your traveling inventory separately. However, if you're already crushing the inventory management process, separately storing your traveling inventory can enhance your business's stockroom organization.
Certain storage solutions and stockroom organization methods are ideal for increasing and optimizing your storage space. Remember those wall shelves? They're a great option if you need to maximize space and storage capacity, no matter how big or small your storage area. Adding shelving to expand vertically could double or triple your usable retail stockroom space without adding to your overhead. Unused vertical space keeps your floor space clear of any obstructions while ensuring merchandise stays tucked away, organized, and secure. 
If some of your merchandise is seasonal, move it to the least accessible place in your storage during the off-season. If you don't have much storage space, a small cost effective solution may be to rent a small storage unit that can hold the summer pool floats during the winter months, or keep the hot drink mugs out of sight in the summer. Just remember to set a calendar reminder so you don't forget to haul everything out when the time comes.
3. Get The Right Software
Precise organization is certainly the core of inventory storage, but the right software can make more complicated tasks a lot easier to handle. Inventory software is an incredibly valuable tool for knowing at a glance where inventory is stored, how much is left, and tracks incoming items so you know what to expect, and most importantly, where it belongs.
try inventory management free for 30-days
Thrive Inventory stock counts keep your team organized with real-time stock counts. Set up multiple inventory locations for your store floor, back office, and warehouse so you always know exactly where your products are.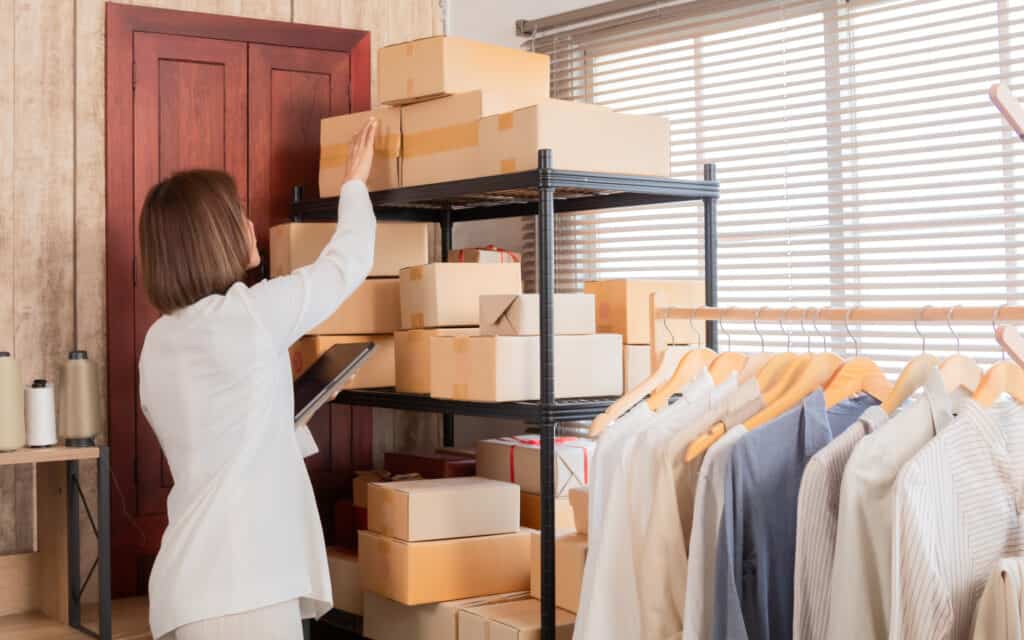 What Are The Best Methods For Organizing And Tracking Inventory In Storage?
It can be easy to stock up on too many items – even in your personal life, not just business. Think about all the times you needed groceries and, instead of making a list, you walked around the store trying to remember what you needed. Once you started putting up the groceries at home, you might have realized you forgot to get the items you needed. You probably also bought some items you didn't really need.
The same concept applies to purchasing inventory. If you add items to your cart before assessing your inventory and planning your resupply, you could end up overbuying. A more consistent and cost-conscious approach to inventory control would be knowing exactly what you need. This way, you're not buying unnecessary or extra items that you need to find space for in your retail stockroom. That's less room available for your bestselling products.
Take back control of your inventory with our free kit
Is your inventory controlling you? Use our tips, tricks, and tools to run your business confidently.
Tracking Excess Inventory
You might not be sure just how many customers you'll see from one month to the next. As a result, you might order or create more products than you really need. But excess inventory can take up lots of space in your retail stockroom, so you should track your excess inventory. Doing so can help you locate products when you need them and make sure you're optimizing every bit of storage space.
Using an inventory management system can help with inventory control. A good system – whether a detailed spreadsheet or an online management tool – can tell you exactly how many excess products you have on hand at any given time. And if you happen to buy and have excess inventory, you can create a dead inventory report, which tracks the inventory you're storing that hasn't sold recently. With this information, you can more easily determine what products you should order on your next resupply and which ones you shouldn't buy.
Running your business takes a lot of work, especially if you have a small team. And when your team is thinly spread, combing through every part of your inventory might not seem like a priority. However, without knowing the products in your inventory, you could be recording inaccurate inventory notes or ordering too many items. You could even be letting products expire and (worst of all) wasting money.
If you're ready to really start tracking and organizing inventory, cycle counting is a viable solution. Cycle counting is the process of making small, regular adjustments to your inventory counts. These regular inventory counts can help you manage inventory by keeping accurate tallies of your best selling products, in-demand products, and anything else you sell. It can also keep products from expiring and prevent you from ordering too many products.
Storing Inventory With Growth In Mind
Having a small business often means not having a large stockroom, especially for storing inventory. At the same time, you still need enough space to keep up with demand as your business grows. Whether you keep some boxes in the corner of your home office or rent shelves in a warehouse, your inventory needs dedicated storage locations that keep you organized.