Square BigCommerce Integration
Multi-channel inventory management, catalog control, and reporting software.
Square BigCommerce Integration Is Made Seamless With Thrive
With multiple sales channels you need to know what you have in stock and what's selling and what isn't. You need this information to run and grow your business.
If you're using Square and BigCommerce to sell your products you are dealing with two different systems that don't talk to each other, which means you need to update your inventory in two different places when a product is sold. When you get busy or have multiple products being sold in multiple locations at the same time, this can take some time to reconcile. As you continue to grow your business this becomes harder and harder to do.
Thrive makes it easy to know what you have in inventory and where a product sold at any given point in time. You'll easily be able to keep your inventory updated and have the knowledge that you're not missing anything. You will have the insight and data to make sound business decisions based on real information that you can access at any time with just an internet connection.
Thrive is the all in one sales and inventory management tool that your multi-channel business needs to be successful.
Thrive gives customers a 30 day free trial, to try our software, risk-free.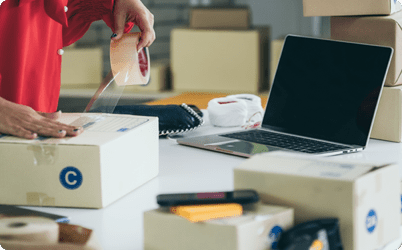 Try Thrive's Square BigCommerce Integration For Free
Join Thrive and start saving on average 1 hour per day per location. Get advanced features such as custom reporting, barcode scanning, automatic purchase orders, price tag printing and more.